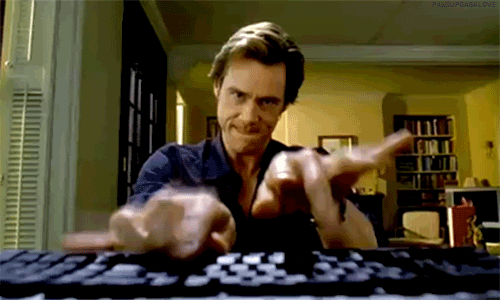 Current status!
No, seriously, I'm furiously typing and attempting to get loads of content up for this week. I've got a couple days off and that means filming (If I'm lucky) and getting a heads up on some of my blog posts, as well as hopefully getting a few things done around the house that need to get done...I won't bore you with the list, but they are things like laundry and coloring my hair and things like that.
Anyway, as you can tell from the title, my thoughts today are on books and bullet journals! These two things are pretty much my life as of late, as well as my music which I've been completely absorbed in the last few days when I'm not binge watching things on Netlfix (yeah, I'm shameless like that...Oh, Shameless...that's a good show, need to watch more of it! Later >.>).
I figured I would share a few of my favorite Bookstagram and BuJo Instagram accounts! I know you'll love em, and you should definitely give them a follow...as well as follow mine, which can be found below.
My Instagram
Favorite Bookstagram Accounts
These are just a couple of my favorites, but if you look through #bookstagram #bookstagrammer hashtags on Instagram you will find a wealth of others that are absolutely fantastic! No, seriously, check them out!


Favorite BuJo Instagrams
Okay, so if you've followed me this far, thank you so much! These are a few of my favorite Instagram accounts and I figured I would share some of them with you today. They are where I get some of my inspirations from, especially the Boho Berry account. Kara's stuff is absolutely amazeballs and I adore her so very much!
Anyway, I think I'm going to wrap up this blog and get to work on a few other things I've got planned to go live today! Love you all!
Goal for today - dealing with those personal deadlines like a bawse!