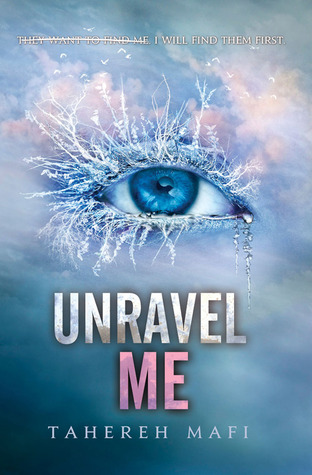 Title: Unravel Me
Author: Tahereh Mafi
Format: Hardback
Pages: 461
Date(s) Read: July 25-27, 2015
Rating: 5
Summary:
Juliette has escaped Omega Point, which is at the same time a place for people like her. People with gifts, and it is also the headquarters of the rebel resistance. She can be free to love Adam...but she will never, ever be free of her lethal touch...or Warner who wants her more than she ever thought possible.
Review:
Okay, I still love this series. Even though Mafi's particular writing style does take some getting used to, however, that does not mean that it detracts from the actual story. There is a beautiful flow to the story, and the world building is wonderful. The emotional ties between her characters are something that are tangible and gut-wrenching when things do not ultimately work out the way we hope they do.
This particular story will, be like the first, and the twists and turns will keep you completely enthralled from beginning to end. Things will definitely not turn out as you hope, and Warner will break your heart just a little bit. That will be the extent of the spoilers I share with you about this particular book. I am greatly looking forward to getting my greedy little hands. I just have to wait for it to be available for either kindle or physical copy from the library!
Yes, I know this review is kinda short. However, it's about as much that I want to give for it because to give away much more will require many more spoilers that I don't intend on giving!