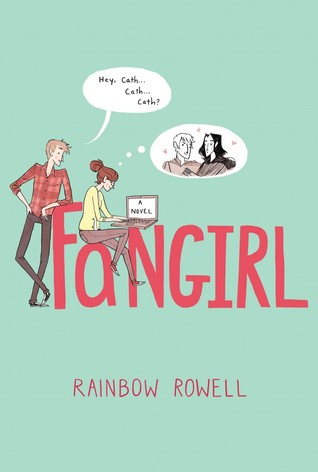 Title: Fangirl
Author: Rainbow Rowell
Format: Hardback
Pages: 433
Date(s) Read: July 27-29, 2015
Rating: 5
Summary:
Cath and Wren are Simon Snow fans...though for Cath, being a Simon Snow fan is LIFE. They've now gone off to college, Wren has outgrown the fandom. Wren doesn't want to be roommates, her fiction professor things fanfiction is the worst thing, and she's worried about her dad. With all the issues Cath faces, it comes down to the questions of can she do this? Can she make it on her own? Is she actually ready to start living her life without her sister holding her hand?
Review:
This is a cute, emotional, coming of age story. This was the second book I'd ever read by Rainbow Rowell, and the first YA I'd read of hers. I was not at all disappointed. Seriously. There was very little about this story that disappointed me, if anything. Well, the one thing....I wanna know how the Simon and Baz story that Cath is writing ENDS! That's about the only complaint I have!
I had heard a WHOLE LOT about this book. The hype was something that I'd listened to, read the reviews of people who had read it. They ran the gambit from loved it to hated it to somewhere in between. So, much like I do with any movie that I see that has reviews on either side of the spectrum, but very little that resided in between: I waited. I waited patiently, and ultimately grabbed the book from the library. I settled down, not entirely knowing exactly how I would react to such a story.
I think part of me really, really liked Cath, because I knew a girl like her (well, minus Cath's level of social anxiety) when I was in college. She was actually one of my best friends and she drew and wrote Final Fantasy VII fanfics, comics, and the like. They of course weren't the only thing she drew/write, but I know for a fact that the Final Fantasy series to her is like Simon Snow is to Cath. So I could relate to Cath a bit, and to be honest I've always been the dorky, geeky awkward girl with the social anxiety and things like that...I mean yes, I have my fandoms but I do not live, eat and breath them...unless you count Nightmare Before Christmas...then all bets are off.
The mix of humor and heart in this story is pretty much perfect, and I was happy to finally get a chance to read one of her YA novels. I think I will be spending a bit more time with some of her books as I can get my hands on them. I mean, seriously? Even her adult novels can get me right in the feels.
I highly recommend checking her out and getting to know all about the characters she creates.