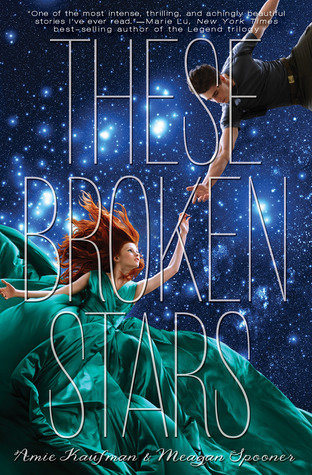 Title: These Broken Stars
Author: Amie Kaufman
Format: Hardback
Pages: 374
Date(s) Read: Oct 28-Nov 4, 2015
Rating: 4
Summary:
This is the first book in the Starbound trilogy, in which a luxury spaceliner, the Icarus, suddenly plummets from hyperspace into the nearest planet. Lilac LaRoux and Tarver Merendsen are the only survivors. Rich girl. Poor boy. They search for help. However, there is a much bigger truth that they find.
Review:
It is Sci-Fi meets elements of the Titanic. You've the haughty heiress and the lower class handsome lad....and eventually they fall in love. Yeah, it happens. No spoiler there. However, this book is quite unique and creative. A lot of the plot twists I didn't really see coming, but if I looked harder I -might- have. Either way, it is a vastly enjoyable read and I will eventually be checking out the rest of this trilogy.
This was my first work by Kaufman, and I am not at all disappointed. Kaufman's writing is encompassing and it draws you into the world she has created - from life on the ship in hyperspace, to the moments when Lilac and Tarver are travelling through the eerie desert in search of help.
The planet that Lilac and Tarver end up landing on when the Icarus comes to rest is kinda creepy and confusing at times. However, definitely an interesting thing. There are are a few spots where the story seems to drag a bit, but they are few and far between and I did greatly enjoy the development between Lilac and Tarver as they struggle to find food and shelter in a place they know absolutely nothing about.
I'm not sure how much more I can say about this book, other than the fact that I truly enjoyed it and will be looking for the rest of this trilogy to find out exactly what happens!