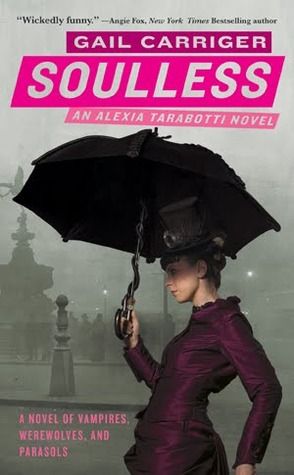 Title: Soulless
Author: Gail Carriger
Format: Paperback
Pages: 373
Date(s) Read: July 29-30, 2015 (re-read date)
Rating: 4
Summary:
Alexia Tarabotti has no soul. She is a spinster whose father is both Italian and dead. She was rudely attacked by a vampire - standards of social etiquette broken! Things apparently go from bad to worse for Miss Tarabotti, especially when it is she who accidentally kills the vampire. Lord Maccon is soon sent by Queen Victoria to investigate. London's high society is a mess, and many people believe that Alexia is to blame. Can she figure out what is going on?
Review:
This one had definitely required a re-read because honestly I hadn't remembered much of it when I'd first read it. This series is absolutely fantastic! Seriously! I have always been a fan of anything Steampunk and this book heartily delivers, as does most of anything that Gail Carriger writes. Yes, I've read more, and there will be more books of her reviewed here...because well...STEAMPUNK.
It is refreshing to read a story with dark fantasy creatures (werewolves, vampires, ghosts) are living among humans knowingly. 1800 Victorian London is such a place where this could happen. This series has very much a Jane Austin meets Supernatural feel to it with the propriety and social standards that are of course rigorously upheld even by the creatures that walk among the human population.
Miss Alexia Tarabotti is quite the sassy, independent, strong-minded woman and her soullessness does not even dim her brightness. She will be a source of laughter and delight throughout the entire story. Lord Maccon - the loud, messy, gorgeous werewolf - sent by Queen Victoria to investigate a murder committed by one Miss Alexia Tarabotti. The pair of them together adds a level to the story that makes it all the more enjoyable.
I absolutely love the back and forth between them, and the constant sense of everything that is going on. Gail Carriger has a knack it seems for throwing you right into the middle of the action in Victorian London, and the language only enhanced it and I absolutely loved each and every page and I will be reading the remainder of this series, as well as the subsequent series set in the same world.