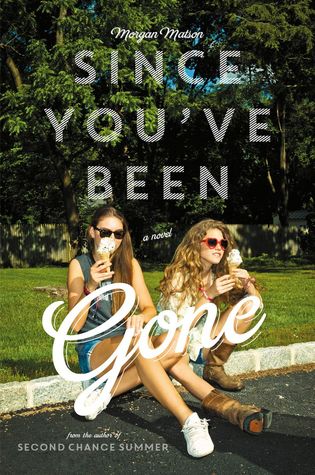 Title: Since You've Been Gone
Author: Morgan Matson
Format: Hardback
Pages: 449
Date(s) Read: November 4-7, 2015
Rating: 4
Summary:
Emily and Sloane are the kinds of friends you never see without the other. Joined at the hip for the most part. They'd ultimately planned the most awesome summer. However, when the first week of summer comes and goes, Sloane is no where to be found. All that she left is a list. A list of thirteen things that Emily should do, that Emily would NEVER do. However, would doing them bring her friend back?
Review:
This book. I think the only thing keeping this book from being a 5 for me is minor issues with the writing that I couldn't get over. Beyond that, EVERYTHING about this book is absolutely wonderful.
Shy. Check.
Introvert. Check.
Emily is both of these, and she is complimented by her best friend Sloane who is her polar opposite. We don't actually get to meet Sloane, however we learn of her from flashbacks throughout the story. Emily, we learn quite a bit about, and ultimately she learns more about herself while she goes through the thirteen item Sloane-inspired to-do list.
Something I did like about this book is that there was no attempt to 'fix' or 'change' the shyness that makes Emily who she is. The story writing allows Emily to essentially come to terms with who she is, and settle into her friendships and relationships without Sloane's guiding hand all the time.
The list is by far my absolute favorite part about this story. Apple picking at night. Dancing until dawn. Skinny dipping. All fun things to do, and then there would be a singular word. Just one word and then there would be a flashback, an explanation as to what the word meant and we would learn why it is on the list.
I am in love with this book and I will probably end up eventually owning it (rather than repeatedly checking it out from the library) because it is one that I will enjoy re-reading (despite the excessive bits of fluff that could have been cut).