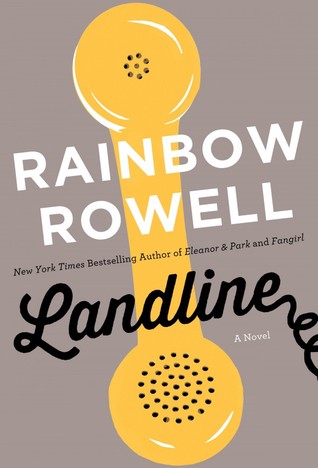 Title: Landline
Author: Rainbow Rowell
Format: Hardback
Pages: 310
Date(s) Read: July 5-8, 2015
Rating: 4
Summary:
Georige McCool knows her marriage is in trouble. Has been for some time. Neal still loves Georgie, Georgie still loves Neal. 2 days before they are supposed to leave for a family trip to visit Neal's parents in Omaha, Georgie backs out because of something going on with the show she writes for (she's a TV writer). She doesn't expect Neal to take the kids and go without her, but he does. Georgie finds a way to communicate with Neal from the past...should their marriage never have happened?
Review:
Okay. This was my first Rainbow Rowell book. I was not in any way, shape or form disappointed with what I was presented with. As I'd never read anything by her before, I wasn't entirely certain what to expect, however I can say that I will definitely be reading more and more of this author to come.
I probably could have finished this book in a day, if I hadn't had to put it down and actually do adulty type things like work, cook dinner, and things like that. Yeah, I probably would have even sacrificed sleep to get it done in a day (which probably wouldn't have been the best idea I'd ever had...).
I was lost to the writing of this book within the first twenty-five to thirty pages and the story that was created was one that made it easy to follow and the voice of the story was one that made it seem all the more. This is a book that will make you cry. There is no way around that, you will end up teary-eyed in some parts of this story.
I would definitely recommend this book as a starter for reading Rowell, especially if you aren't into YA as much as others. Since this one is decidedly not a YA novel.