This week's #TBT is a touch of Disney. I moved to Florida when I was five, and have lived here since - going on thirty years I have been in Florida and I've fallen in love with Disney and yes (Disney addicts please put your pitch forks down...) there are times when it does annoy the crap out of me. However, I will forever love going to the parks and spending all day there just wandering, snapping pictures, meeting characters, and riding the rides.
There are also books that have been adapted by Disney, some of these are my favorite renditions of the stories, and others...well, not so much. However, there has been a few characters that have always been among my favorites, and their books among my favorite childhood memories and comfort reads. Here are a few of them.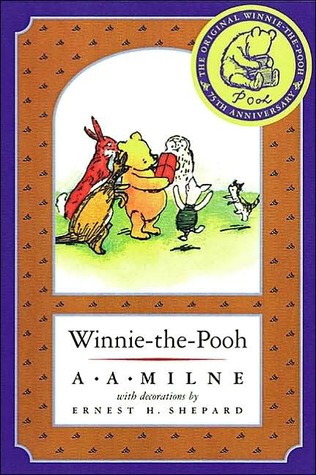 Pooh, Piglet, Eeyore, Rabbit, Owl, Tigger, Kanga, Roo...Christopher Robin..all of them are childhood favorites. However, it was Winnie-the-Pooh, that rolly, polly, stuffed with fluff teddy bear that had my heart from the beginning. I have several Pooh bear items - key chains, beanie babies, pillows, and I think at one point I had a complete bed sheet set. Yup, I was addicted.
I have -always- been a fan of Alice in Wonderland, Through the Looking Glass, etc. The world created by Lewis Caroll has always fascinated me. The stories that were spun about Wonderland and the people that inhabit it have always been ones that fascinate me. Cheshire I think is one of my all time favorites from this series - though I have been known to be as spastic as the White Rabbit and as annoyed as the Queen of Hearts. Some of my favorite scenes are the tea party, the conversations with Caterpillar, and falling through the rabbit hole. I think I actually had this particular version of Alice in Wonderland when I was a kid. Though, I could be wrong.