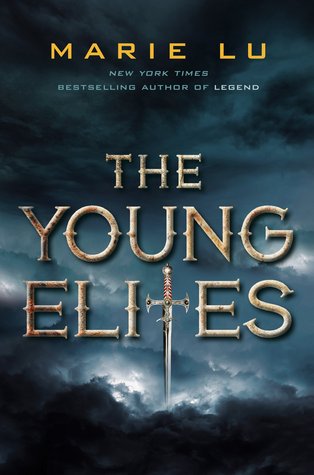 Title: The Young Elites
Author: Marie Lu
Format: eBook (Kindle)
Pages: 336
Date(s) Read: July 21-24, 2015
Rating: 5
Summary:
Adelina Amouteru is a survivor of the blood fever.
Teren Santoro works for the King. Enzo Valenciano is a member of the Dagger society. Their lives will collide in unexpected ways. Adelina wants to believe Enzo is on her side and that Teren is the enemy, but is this the case?
Review:
Marie Lu has been one of my favorite young adult authors since I read the Prodigy series. This one, however, is above and beyond her first series. I love this, I always have. This was no exception, and I am definitely going to have to get my hands on the second book in the series.
I think the biggest reason I absolutely love Marie Lu's writing style is because she has a way of taking older tropes and archetypes and giving them a new and unique spin. The world for this is something that feels almost familiar, and that makes you feel complacent...until the rug is yanked out from under you and the world you know is twisted upside down.
Adelina Amouterou is a malfetto; marked and ostracized by her community. She survived a virus that killed so many before her. Her hair, silver, or shock white. One eye, and a scar to match lost because of the virus. She is flawed. That makes her even more likable. I absolutely adore this protagonist. Her darkness, her almost anti-hero qualities are absolutely wonderful to me.
There is more to Adelina than I have already said, at least in small quantities...however to give more away would lend itself to bringing a few spoilers into play and I don't like doing that.
The Young Elites is both epic in scope and yet full of specific, near poetic detail. The prose provide us a glimpse into Marie's background of design. The ending was absolutely crushing, and unexpected. I am quite glad that I actually took the time to read this book, and I am looking forward to the continuation of this series.