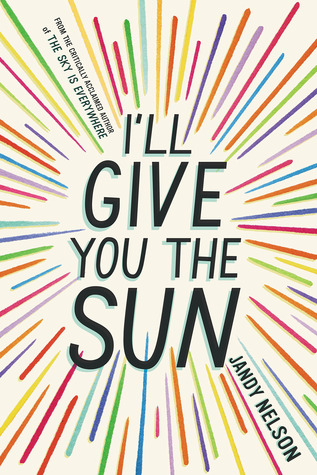 Title: I'll Give You the Sun
Author: Jandy Nelson
Format: Hardback
Pages: 371
Date(s) Read: Dec 27, 2015 - Jan 1, 2016
Rating: 4
Summary:
Jude and her twin brother, Noah, are close - very close. Age 13, Noah draws and falls in love with the boy next door. Jude cliff-dives, wears red-red lipstick and talks for both of them. At 16, they barely speak. Early years are Noah's to tell. Later years, are Jude's. However, each twin only has half the story - if they find their way to each other - they can get the whole story.
Review:
This book. All the feels. I cannot even begin to express how much of an impact that this book had on me. The stories that are told by both Noah and Jude are powerful, passionate, and beautiful. There were tears, lots of tears as I read this book and honestly, I still can't figure out why I did not give it a full five star rating - however, it is worth each and every one of the four stars that I have gifted it with!
Noah and Jude can be related to, not necessarily to the extend of how they buried themselves in dream-shredding lies and secrets, but to the act that they are so very real. Every aspect of this book is so very much real, and it sucks you in and traps you in the struggle between brother and sister. Hell, even the secondary characters are absolutely real and I love all of it.
This book however, has ultimately further endeared this author to me, and I will be hunting down some more of her work. Especially if her other works are as real and engrossing as I'll Give You the Sun.