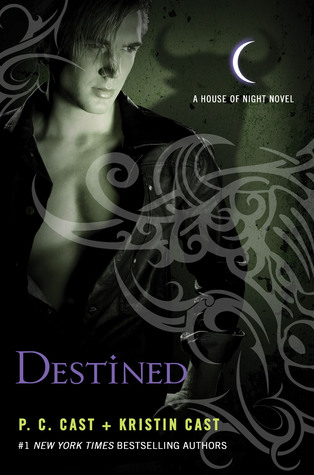 Title: Destined
Author: P.C. Cast & Kristin Cast
Format: Hardback
Pages: 325
Date(s) Read: Jan 3-7, 2016
Rating: 3
Summary:
Zoey is home, safe with her Guardian Warrior, Stark. She is preparing to face Neferet. Rephaim's been released from Kalona's hold and given human form. He and Stevie Rae can be together. Can Rephaim stay free of his father's shadow and walk the path of the Goddess? What will happen as the forces of light and dark continue their struggle continues its focus on Tulsa's House of Night.
Review:
Okay, so it's been a bit since I've read this book. Even with the background I have from the Novellas, I wasn't entirely thrilled with this book. I am, thanks to my book OCD, committed to finishing this series. However, I do not think the books will ever receive higher than a three from me as far as rating goes. The plot, the premise of the story was one that I enjoyed from the beginning. However, at this point in time I am starting to think that it is getting drawn out further and further. There is very little resolution in these stories and it is, to be honest, starting to get maddening.
I honestly really used to like Zoey and Stevie Rae...I really did. However, at this point in time, Zoey is getting on my damn nerves. She's gone from something likeable to something vapid and annoying as hell. She doesn't deal with her emotions, she doesn't deal with things. Instead of dealing with the potential death of her mother...she wakes Stark up for SEX! Seriously? That is the first thing you do when you have a dream with Nyx in it that tells you your mother is freaking dead! You wake your boyfriend up for sex?! Also, for one, if you wake your boyfriend up and he gets MAD AT YOU for waking him up over something like that....IT IS TIME FOR THE STUPID BOY TO GO! Like now.
I have more to say about this series, however, I'm not entirely sure where to start or how to make it sound less ranty than it actually is. UGH! I don't think that's possible. So, I will simply leave this review as it is because otherwise I might make it longer than I intended.