Hello Lovelies!! Welcome to another Sunday! You know what that means...book of the week time! This week's book is one of my favorites. I've always loved the worlds that Neil Gaiman crafted and his expertise when it comes to storytelling. I couldn't even begin to fathom a top ten list of Neil Gaiman favorites, however, this one would probably be somewhere near the top. Maybe one of these days I'll humor you and come up with a top ten Neil Gaiman list.
For now, however, you'll have to settle with this week's book of the week. If you've not read this fantasy story, I highly recommend it. It was the book that introduced me to Neil Gaiman so many years ago.
Stardust
Neil Gaiman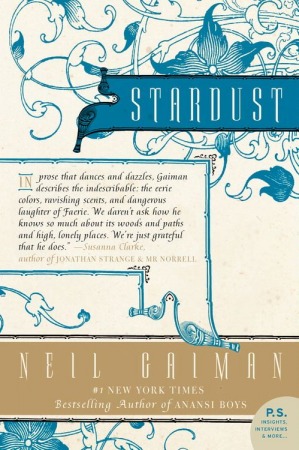 This story is by far one of my favorites. A love story involving young Tristran Thorn attempting to win the cold heart of Victoria. She gives him a daunting task - to retrieve the fallen star that they watch fall in the night sky. However, Tristran quickly learns that outside the walls of their quaint little village, the Faerie, and everything else are nothing like what they seem.
I instantly fell in love with the storytelling, the whimsy and the life that Gaiman breathes into each and every character that he creates. This is a story that I constantly go back to every so often to remember why it was that I fell in love with this masterful writer.