Hello lovelies!
Renovations are complete, they were complete on Saturday, but I've been using the time to attempt to recenter myself and bring back the calming energy that seemed to have vanished for the duration of the time my house was in chaos. So, let's get back into the swing of things!
Anyway, today's wish list includes a few things that support fantastic causes, some books that I want, and also a few supplies for my bullet journal, because you know my wishlist wouldn't be complete without supplies for my bullet journal!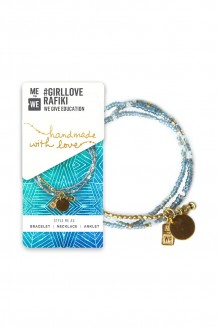 The #GirlLove Rafiki is high up on my wish list. It was created by Lilly Singh, aka iiSuperwomanii. This project, which began on her birthday last year, was inspired by her trip to Kenya. Each bracelet sold helps to fund education for girls in Kenya. At $15 it is super affordable, I just have to find the extra funds to get it. I'm loving the design and the fact that it helps to give young girls an education that they so desperately need is just a bonus to owning this absolutely wonderful bracelet, that is actually handmade by a woman in Kenya. If you want to purchase one for yourself, you can find them here.
I am by far and away in love with anything Studio Ghibli, but My Neighbor Totoro is by far my all time favorite (Sorry Spirited Away...just kidding you'll always be my #1). I want a snuggly little Totoro to cuddle up with because he is just so totally adorable. This one is $10 on Poshmark and I am seriously considering ordering him when I get paid. If you want this lovable little guy you can find him here.
If you've seen my bullet journal or yesterday's video you know by now, that I am totally in love with Washi tape, and well...my WLW wouldn't be complete without some washi. These are on my wishlist through AliExpress, and I totally love it. I don't mind waiting a few weeks for it because usually, I forget that I've ordered from them until it shows up in my mailbox :D If you want to see these patterns or other that are offered from them you can go here.
I think that's all I got for you this week! <3
See you next time!